About Copter.io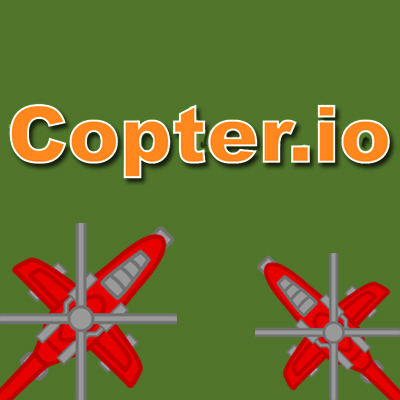 Description:
Copter.io (Copter io) is an exciting multiplayer online game that puts you in the pilot's seat of a powerful helicopter. In this fast-paced aerial combat game, you'll navigate through a vast and dangerous battlefield, engaging in intense dogfights with other players from around the world.
Gameplay
The gameplay of Copter.io is adrenaline-fueled and highly addictive. Take control of your helicopter and fly through the skies, avoiding enemy fire and shooting down rival pilots. With smooth controls and responsive handling, you'll be able to perform evasive maneuvers, execute precise attacks, and outmaneuver your opponents.
Multiple Game Modes
Copter.io offers a variety of game modes to keep you entertained. Whether you prefer team-based battles or solo missions, there's a mode for everyone. Engage in intense deathmatches, capture the flag, or join forces with other players to dominate the leaderboard in team battles.
Customization
Stand out from the crowd by customizing your helicopter. Earn in-game currency as you progress and use it to unlock a wide range of skins, decals, and upgrades. Personalize your aircraft to match your unique play style and show off your individuality in the skies.
Leaderboards and Achievements
Compete against other players to climb the global leaderboards and prove your aerial supremacy. Earn achievements by completing various challenges and tasks, showcasing your skills and dedication. Compare your progress with friends and aim to reach the top of the rankings.
Features:
Fast-paced and intense aerial combat
Multiple game modes to suit different play styles
Customization options for your helicopter
Global leaderboards and achievements
In Copter.io, the skies are your battlefield. Are you ready to dominate the skies and become the ultimate helicopter pilot?
A: To start playing Copter io online, go to the game page and follow the on-screen instructions, typically by clicking the "Play" or "Start" button. Registration is usually not required to begin playing.
A: Control of your character or object in the Copter io is typically done using the keyboard (e.g., WASD for movement) and the mouse (for aiming and actions). Additional control buttons and settings can be found in the in-game menu.